Checkup and Cleans in Cheltenham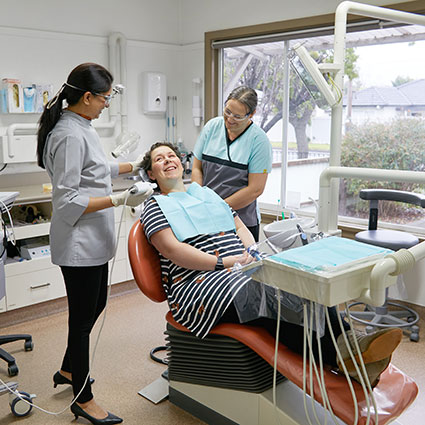 Routine exams and cleans are essential to keeping your smile healthy. For most of us, it's best to book a checkup at least once every six months. During these visits we'll evaluate changes in your oral health, discuss any concerns you may have and intervene when additional care is necessary. Our goal is to equip you with early screenings and resources to avoid preventable dental conditions.
What to Expect
When you arrive for your checkup, we'll visit with you to discuss any complaints or issues at hand. From there, the dentist will perform an extraoral exam of your face and joints, then move to evaluating the inside of your mouth, including your lips, teeth, soft tissues, tongue and back of your throat.
After your exam is complete, we'll determine if any X-rays are needed. X-rays allow us to evaluate areas of your mouth that are not visible during a clinical exam. We'll review the findings together to discuss if any treatment is necessary. At that point, we'll professionally clean and polish your teeth.
New patients can plan on their visit lasting about 45 minutes, while periodic checkups take only about a half-hour to complete. Patients with active gum disease may require additional deep cleans or scaling to bring their infection under control.
Providing Comfortable Care for Anxious Patients
We try to go out of our way to make your visit with us as relaxing as possible. By developing personal relationships with each of our patients, we get to better understand their concerns. Our practice offers soft and relaxing music as well as aromatherapy to help set the tone for a calm and peaceful experience.

Checkup and Cleans Cheltenham VIC | (03) 9583 8988