General Dentistry in Cheltenham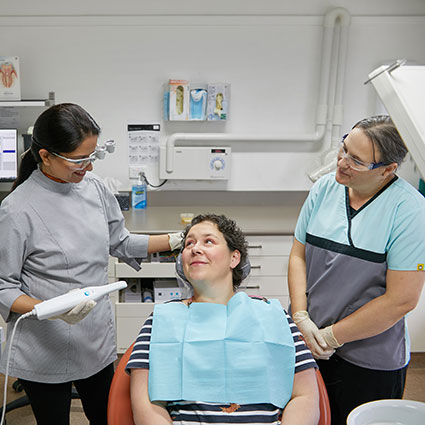 At Nepean Dental, we provide high-quality general dentistry services for every member of the family. We treat adults and kids alike and provide exceptional value for the high level of service.
We also ensure your dental care is always customised. That's because you're not a number; we want to get to know you as an individual and custom-tailor your treatment requirements.
Offering an Array of Services
Dr Nashi is at the forefront of dentistry, as she is always improving her continuing dental education and aims to utilise the latest in technology to provide the best treatments available. We offer the following general dentistry services:
Dental emergencies happen when you least expect them. Whether you have a broken tooth, throbbing toothache or other dental emergency, we provide emergency dental care to get you out of pain and back to your day.
Wisdom teeth, also known as third molars, are the last set of teeth to come through in the mouth. While they were necessary for our early human ancestors to chew tough foods, modern humans do not need them as much due to the evolution of our diets and the decreasing size of our jaws. As a result, wisdom teeth often cause trouble and need to be extracted.
While preserving one's teeth is always ideal, sometimes teeth are beyond repair and require extraction. Rest assured, we'll help ensure you feel comfortable during your extraction.
The best way to check for cavities and determine how extensive they are, is to have a small X-ray taken of your tooth. If the decay reaches into the nerve, a root canal may be required. Our goal is to intercept cavities while they're small and restricted to the outermost layers of your tooth.
A painful toothache or abscess may indicate you need root canal treatment. During a consultation, we'll assess your tooth to identify the source of your pain, then advise you whether endodontic therapy is needed.
Sports Mouthguards
A sports mouthguard helps protect and prevent chipped or broken teeth, permanent nerve damage, loss of teeth, and even injury to your lips and surrounding tissues.
Occlusal Splints and Nightguards
Teeth grinding, also known as bruxism, is a common problem that affects many people. Fortunately, there is a solution to prevent further damage to your teeth and relieve discomfort: nightguards and occlusal splints
Bruxism/Teeth Grinding
If you grind your teeth, you can damage them. We offer teeth grinding treatment in the form of occlusal splint therapy, and can recommend other measures to take.
Making Visits Convenient & Fun
Here are some ways we endeavour to ensure your visits to our practice are pleasant:
We provide flexible appointments (e.g. late night and Saturday appointments), and you will receive personal follow-up calls and reminders for your appointments.
We have a great location, as we're close to the trains, buses and Westfield Southland shopping centre (450 mts). Free parking, with disabled access, is available.
Once inside, you can enjoy a relaxing cup of tea or coffee.
As a child-friendly dental practice, Dr Nashi is very caring and gentle. She tries to make the visit fun and enjoyable for children, and even makes balloon animals for little and big kids!
Keeping You Safe
We have a high level of infection control protocols in place to ensure that patients are always safe. Don't like the smell of hospital cleaning products? Not to worry, as we use aromatherapy to provide a more pleasant and soothing experience in our clean and hygienic practice.
Schedule an Appointment
If you have any questions about our general dentistry services or would like to book an appointment, please contact us today.

General Dentist Cheltenham VIC | (03) 9583 8988