Dentures in Cheltenham
If you need to replace several missing teeth, dentures are an efficient solution to consider. Available in full and partial designs, our custom dentures can replace all of your missing teeth at one time.
Types of Dentures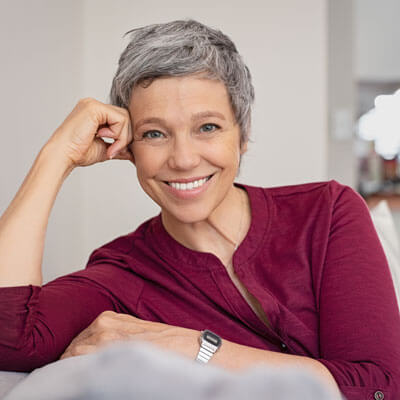 Dentures can be made of acrylic or a cobalt chrome base. Most full dentures ('plates') feature an acrylic base, as they replace all of the teeth in your arch. Upper dentures rest across the roof of your mouth to create suction for added stability.
On the other hand, partial dentures typically have a chrome base. The metal framework supports the specific teeth that are missing while wrapping around the natural teeth you're able to retain. Partials only replace certain teeth as opposed to all of them.
We also offer immediate denture options. Immediate dentures are used when you need to have teeth extracted and want a same-day prosthesis. The denture is designed ahead of time so that you can begin wearing it on the same day you have your teeth removed.
Do I Need Dentures?
Dentures are ideal for our patients who may not qualify for treatment like bridges or implants. They also offer an economical and efficient alternative when timing or costs are a concern.
Denture Maintenance
A properly cared for denture can last for several years. However, if you do not wear your dentures daily, they will not fit your ever-changing mouth (as teeth tend to shift over time). Wearing your dentures on a regular basis and caring for them properly will ensure they function as long as possible.
Make sure to clean your denture regularly and bring it in for your routine checkup. Always store it out of the reach of pets or heat (such as in your parked car) and only clean it with cool water and gentle products.

Dentures Cheltenham VIC | (03) 9583 8988