Dental Implants in Cheltenham
Dental implants offer another way to replace missing or extracted teeth. Unlike other types of tooth replacements, implants closely mimic natural tooth anatomy and stand independently of other teeth in the mouth.
What Are Dental Implants?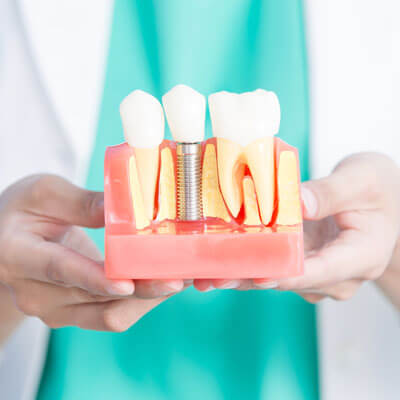 Implants are strong and predictable, made from biocompatible materials like titanium or ceramic. Placed into the bone, they completely integrate with your jaw and become a permanent part of your bite. Fully integrated implants can support a fixed crown, bridge or hybrid denture, depending on how many teeth are missing.
Each dental implant is made up of a screw-like restoration that's set into the bone. Every implant will also need an abutment affixed to the top of it and then a permanent restoration to fill in the visible 'tooth' portion that you see when you smile.
Advantages of Dental Implants
Some of the benefits of dental implants include
Their ability to support themselves, free of other teeth
Stronger, healthier bone after integration
Options for single, multiple or complete tooth replacement
Freedom to eat all of the foods you love
Simple everyday care and maintenance
Natural support of your cheeks, lips and facial profile
Caring for dental implants is simple. Just brush and floss them the same way you would your natural teeth (and schedule six-monthly checkups).
The ideal dental implant candidate is someone with missing teeth and good oral hygiene. It's important that they have healthy, strong bone to support the implant since each one acts as an artificial tooth root. Someone with bone conditions-such as osteoporosis-or similar diseases may not qualify for implant placement as the implants could fail to integrate.
Today's dental implants offer one of the best returns on investment, because of their predictability. Well-maintained implants can easily last for 20-25 years or more. In some situations, they may even be permanent.
Getting a dental implant requires two phases of treatment. First, the implant is surgically installed. Then, we wait approximately three months for the implant to integrate with your bone. We work closely with a neighbouring specialist who places each implant. After the implants are integrated, you'll return to our office to have the fixed restoration installed.
The recovery for dental implants is much easier than most people expect. In many situations, painkillers are not even necessary. However, there are some instances where medications such as antibiotics or Panadol are prescribed on a case-by-case basis. It's typically easier to have dental implants installed than it is to have a tooth removed.
Since dental implant treatment is spaced over two phases, you don't have to pay for everything upfront. Additionally, you can choose to make affordable payments to finance anything that isn't covered under your health fund.
Find Out If You Qualify
Are dental implants right for you? Reserve a no-fuss consultation at Nepean Dental today to find out if you qualify for this innovative tooth replacement option.
CONTACT US »

Dental Implants Cheltenham VIC | (03) 9583 8988