Sports Mouthguards in Cheltenham
Custom Made Mouthguards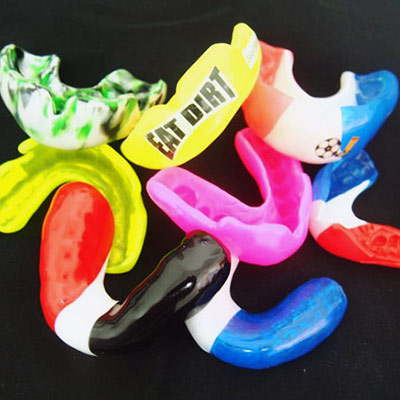 Did you know that one of the most common causes of dental trauma is sporting accidents? You may think that only athletes who play contact sports need a mouthguard. However, if the sport you play has the potential of contact with another person, from a ball, or other equipment a mouthguard is highly recommended.
At
Nepean Dental
, we can create a custom-made mouthguard in about one week from your initial appointment. You will be glad to know we have a range of fantastic colours to choose from so you can coordinate with your team colours or go for a more natural look.
Keep Your Smile Safe
During a heavy collision, a mouthguard helps protect and prevent chipped or broken teeth, permanent nerve damage, loss of teeth, and even injury to your lips and surrounding tissues. Injuries like these can often lead to a long and potentially expensive treatment to restore them and the mouth back to normal function and appearance.
Can I Use an Over-the-Counter Mouthguard?
To get the best protection possible you should only use a professionally made mouthguard that is customised to fit your mouth. A custom mouthguard absorbs the impact of any knocks to the teeth and mouth. You'll find the 'boil and bite' types found off the shelf do not offer the same protection as a custom-fitted one.
Tips for the Best Mouthguard Experience
We suggest you wear your mouthguard whenever you're at risk of contact – whether that's during practice, playing games or competing.
Always bring your mouthguards with you for your checkups. We want to check your mouthguard regularly to make sure it fits and is effective.
To keep your mouthguard safe store it in a rigid container. Keep it away from the sun and in a reasonably cool area.
Hygiene is important. Clean your mouthguard every time you use it with warm soapy water and a toothbrush. If you don't clean your mouthguard regularly it will get full of bacteria which can cause decay.
Get Colour Customisation
We have a wide range of colours to choose from for your custom mouthguard. You can match it to your favourite footy team! We're proud to sponsor many local sports clubs.
Book an Appointment
Contact us today to schedule an appointment with one of our dentists!
CONTACT US »

Sports Mouthguards Cheltenham VIC | (03) 9583 8988